The Ultimate Remote "Silent Disco" Experience.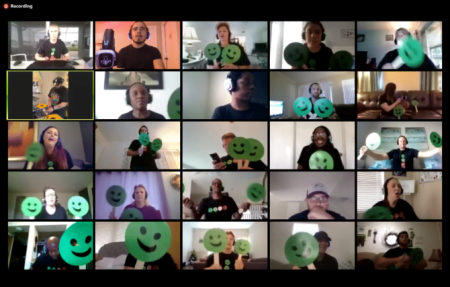 WE BRING THE DJ TO YOU VIRTUALLY!
Need something to spice up your (boring) video conference meetings? Want a fun experience for a friend's birthday party or an online happy hour? Missing that night of hanging out at the club with your BFFs? Well then you've come to the right place! From the people who know Silent Disco best, Party Headphones Presents our Virtual Silent Disco Experience!
What is a Virtual DJ Party?
A Virtual DJ Party is just what it sounds like! You and your friends gather online to jam out to tunes being blasted by a live, Party Headphones-certified virtual live DJ. Our DJs will mix and master tracks with you and your friends live, while you jam out, rock on, and dance to your heart's content.
How does it work?
Our DJ will start the Zoom meeting, introduce themselves, thank everyone for coming out, give a shout out to the booking organization, quote out any sponsors or special messages from the organizer of the
virtual event
, then get down with mixing some live music!
You can message them song requests, get up and dance-along, and of course, get down with your headphones
(optional)
on!
Awesome, I'm interested, how do I get started!?
Excellent news! We can't wait for you to experience your first-ever
Virtual Dance Party
, and we've made it super easy to do so.
Fill out the form on this page so we can check on your date. Someone will reach out to request more details and get you a quote. Once booked, you'll get a custom meeting link and calendar invite, which you'll share with your attendee list. Just join the meeting at the scheduled time, and our DJ will be there to get the party started!
Additional Silent Experiences
Friends & Fam
For small get togethers
Completely Remote "Silent Disco" Experience

Party Headphones Vetted Expert DJ

Up to 1-hour of Sick Live Beats

Premium Zoom Meeting Invite Included
Corporate
For schools and large companies/organizations
Completely Remote "Silent Disco" Experience

Party Headphones Vetted Expert DJ

Up to 1-hour of Sick Live Beats

Company/Sponsor Shoutouts

Consultation with an Event Specialist

Premium Zoom Meeting Invite Included
Private (Graduation, B-day, etc)
For small organizations and large personal parties
Completely Remote "Silent Disco" Experience

Party Headphones Vetted Expert DJ

Up to 1-hour of Sick Live Beats

Premium Zoom Meeting Invite Included
Do I need my own conferencing software?
Nope. We will send you a premium Zoom invitation link that you can share with any of your attendees. You can join via a browser, desktop software, Apple or Android mobile device. If you this is your first Zoom meeting, check out this helpful video on how to join.
Do I need headphones for this?
Being a headphone company, we of course support it! But no, you can join the event without headphones. Just blast the music through your speakers instead.
How do I make song requests?
Just like you would at an actual club, you can post your requests to the DJ directly via the Zoom chat. 
At this time we do not have the ability to choose which DJ will host your event, however, we will keep you updated and add that option as soon as it becomes available.
Can I request a clean (non-explicit) playlist?
Absolutely! We know not every song is appropriate for every gathering, so we give you the option to choose Explicit, or a Filtered set-list.
Can I use my own conferencing software instead?
We chose to use Zoom for our video conference provider due to their reliability, security, and ease of use. While we understand you may have your own preferred software provider, we are limiting our Virtual DJ Parties to just Zoom at this time. This ensures a consistent experience for all, and guarantees your DJ will be fully prepared for your event.
Great communication and clean gear. Shipped quickly, arrived before promised and had very clear instructions for use and return.
Everything from customer service to equipment rental was fantastic! All necessary supplies and information was contained in the box for rental.
Stellar company and service! Delivered on time, amazing product and cannot wait to host another event! All 150+ people at our event were out of this world happy! Could not recommend enough!
Book Your Virtual DJ Party
Let's take your virtual party to a whole new level. We promise it will be epic. Relive the experience of being at your favorite club, from the comfort of your own home.
Or call 833-PARTYHP to make a reservation today.