Silent Discos for people with SEN and Autism
Make your next event more inclusive for people with SEN, Down Syndrome and Autism.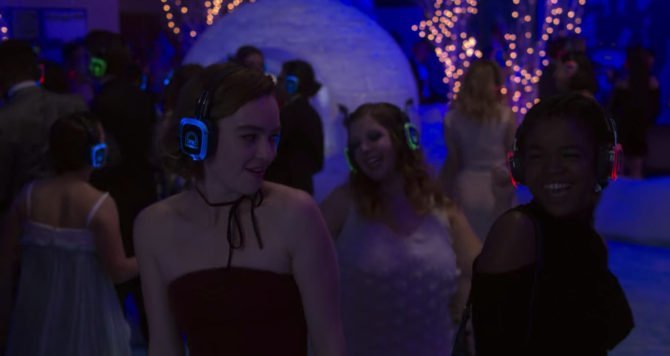 GIVE GUESTS CONTROL OVER THEIR SENSORY EXPERIENCE
Parties and events can be overwhelming for people with
Autism Spectrum Disorder
, Down Syndrome, or any
sensory processing disorders
. Our
silent disco
headphones are often used to create events that are more inclusive by giving guests more control over their own sensory experiences. Guests can adjust the volume on their
wireless headphones
to a comfortable level, take the headphones off when they want to remove the music or have a quiet conversation, and you can even use multiple transmitters to provide an alternative channel with white noise or calming, low-sensory sounds!
Inclusivity matters – everyone should be comfortable attending school dances, weddings, birthday parties, and other fun events! We love that our
silent disco party
headphones are used to create a welcoming environment and we would be happy to talk to you about how we can help make your next event more accessible!
Check out our featured appearance on Netflix's Atypical to see how our headphones are used to create an inclusive school prom for a student with autism.
Personalized volume control. Perfect for everyone from guests who are hard of hearing to those who prefer low volume.
Soft ear cushions and adjustable headband provide comfortable wear for children and adults alike.
Noise-canceling design is perfect for people with sensory processing issues.
Takes minutes to set up. Minimal cables and no speakers needed.​
Multiple transmitters allow for up to 3 audio tracks to be broadcasted at once (multiple audio sources needed). Provide alternatives to party music with white noise or other calming sounds!
Use our LED keypad controller to turn off the headphone lights and further reduce the amount of sensory stimulus. ​
Guests can remove their headphones and have conversations at regular volume without loud, distracting music to minimize sensory overload.
Additional Silent Experiences
Great communication and clean gear. Shipped quickly, arrived before promised and had very clear instructions for use and return.
Everything from customer service to equipment rental was fantastic! All necessary supplies and information was contained in the box for rental.
Stellar company and service! Delivered on time, amazing product and cannot wait to host another event! All 150+ people at our event were out of this world happy! Could not recommend enough!
Silent Discos for people with SEN and Autism FAQ
What do I need to host an accessible event?
You'll need a few supplies to host your own silent movie night. 
Your party playlist of course! You can also provide alternative channels with white noise or other calming sounds - you will need one audio source for each channel - up to three channels available!
An LED control keypad (available as an add-on item) if you would like to be able to turn off the headphones lights to decrease sensory stimuli.
Enough 

Party Headphones

 for each of your expected guests.
Do I need headphones for this?
Yes, the headphones are what will help make your event accessible. Our headphone kits will include everything you need - with LED control keypads as an add-on option. Just choose how many headsets you'll need and we'll get you a quote!
Does Party Headphones rent any other equipment for events?
Yes! We rent Photo Booths that can be custom branded, inflatable screens and projectors for a movie night, led lights to set the party mood, and more! Contact us if you would like to discuss your equipment needs.
Do I need any other equipment?
Everything you need is included in your Party Headphones Rental Package. 
What kind of events can I make more accessible?
Just about any event with audio can be turned into an accessible event! From live performances, to school dances, to Outdoor Movie Nights, using headphones can help accommodate people with sensory disabilities at your next event.
It's super easy! Just plug the transmitter into a power outlet, and plug the other end into your audio device. Turn on your headphones and you're good to go.
What do I get with my rental?
Each rental will come with 3 transmitters (for playing up to 3 audio sources at once), audio cables to connect to your device, and as many headphones as you need. 
How does the rental process work?
Once your rental order has been processed, your silent listening box will be shipped right to your door a day or two before your event. The day after your rental ends, you'll pack the equipment back up, and ship it back to us using the prepaid label. It's that easy!
Rent Silent Discos for people with SEN and Autism Package
Get ready to experience epic to a whole different level with this silent experience.
We ship to all 50 states and Canada. Submit the form and we'll get back to you within 24 hours.
Or call 833-PARTYHP to make a reservation today.