A while back, we told you about the history and purpose of a silent disco. So, now that you've had a few months to let that wondrous information sink in, it's time we let you in on when and where you should throw this so-called "rave in your ears".
To refresh your memory, a silent disco is any event where people gather and dance to music played on wireless headphones. It's an earsplitting, deafening dance party in which you participate but you can't hear.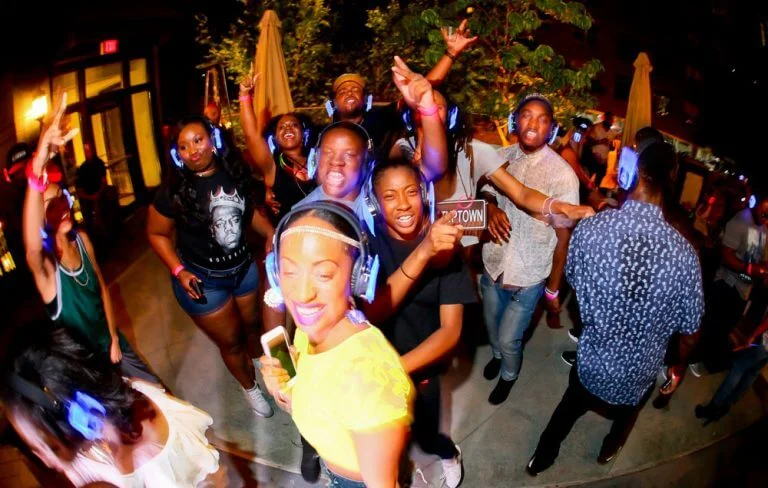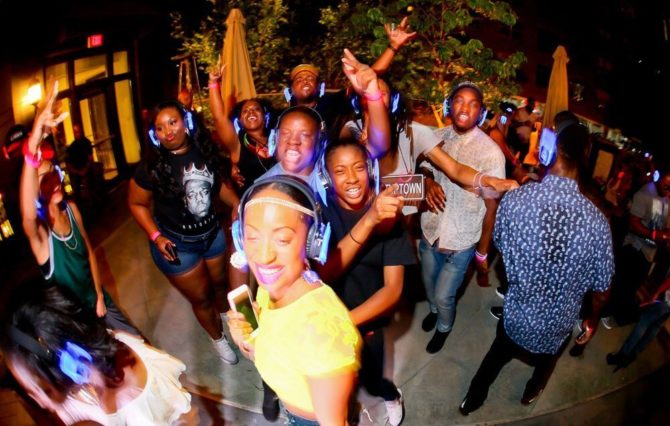 You can break out the digital headphones at any type of event that requires you to get on your feet or takes place in a venue or area with noise restrictions. Without any noise regulations, these headphone parties can be held around the clock, and our parties aren't just limited to dancing. We've held events for movie screenings and sports games too.
We've seen most silent disco soirees thrown at rooftop bars, clubs, parks, corporations, libraries, meditation classes, and more. We encourage any type of venue, so if you use your imagination, they can be thrown anywhere!
In recent years, we've seen partiers silently grooving to killer music (or watching a movie, or sports game) at these types of events:
COLLEGE PARTIES
This might be a silly one to start with because anything goes when you throw a college party. You can basically slap a silent disco on any and all college events and be a success. Frat party, sorority initiation, fundraiser, school-sponsored event, spring formal, and the list goes on!
MUSIC FESTIVALS
You wouldn't be throwing this event, but we suggest you check out the tents that offer a silent disco experience at a music festival for a unique twist on a traditional music show.
WEDDINGS
The demand for silent disco weddings is quickly rising as the bar for creative nuptial celebrations is held higher each year. Wedding couples are incorporating silent discos into the entire dance portion of the reception, as a mid-reception activity, or as the last dance to send guests off with a bang.
CORPORATE EVENTS
We all know corporate events can be a bit boring, so jazz up your annual sales meeting or holiday party with a silent disco. Co-workers bond over shared experiences, and this is a great (and certainly unique) way to bring everyone together.
FUNDRAISERS
Lighten the mood at your next event by incorporating a silent disco into your fundraising efforts. Offer a pair of headphones at the door to people who donate a certain amount as incentive for larger donations. Better yet, make it a competition and offer more money to the charity in the name of the person who dances the longest.