Indications that summer is here:
The successful emergence from sweater weather

Temperatures are on the rise

Longer days commence (yay!)
Once you've checked these three boxes, it's time to get outside! So hey, if fun generally exists alfresco in the summertime, why not plan all of your special events outside?
You might think outdoor events are all guaranteed wins. Happy guests, happy event — right? Not always. As an event organizer, planning an outdoor event is a lot harder than you'd think. There are many things to consider and many backup plans to be had, so it takes a super organized planner to pull it off.
What to consider when producing an outdoor event:
Get an Event Organizer
A lot of times, people think that all it takes to put on a successful event is to come up with a good idea. And while that's definitely a key part of the equation, there's a lot more to it than that. If you want to make sure your event goes off without a hitch, you need to have a solid plan in place – and that's where an event organizer comes in.
An event organizer can help you with everything from finding a venue and lining up sponsors to creating a promotional strategy and handling the logistics on the day of the event. They have the experience and expertise to make sure your event runs smoothly and on schedule, so you can relax and enjoy it yourself.
So if you're thinking about throwing an event, be sure to get an event organizer on board. They'll take the stress out of the process and make sure your event is a success.
Backup plan:
Should the skies open up on your guests, you will need a backup plan — which means planning two different event scenarios simultaneously. The event organizer must not choose a venue that doesn't have option B. Or else, the event sponsor and attendees will not be happy.
Tents:
If you're in an open area, always rent a tent. Shade your attendees from the sun and save your event if it rains.
Stay connected:
Make sure the area is connected to a wireless network (for the event planner, guests, and staff). If not, bring a hotspot.
Not everyone can hold it:
In an outdoor venue, don't forget to rent portable bathrooms if outdoor restrooms aren't an option.
Make sure you're allowed:
Outdoor events held on parking lots or any public space might require a permit, especially if your venue is on public property. There are permits for everything – noise, parking, and holding the event. Do your research for a successful event.
Access to Parking Lots:
Access to parking lots is an important consideration for many people. There are a few important things to consider when looking for a parking lot. The first is the price of the lot. Many parking lots charge a fee for parking, so you will need to find one that fits within your budget. The next consideration is the location of the lot. It is important to find a lot that is close to your destination. Finally, you will need to make sure that the lot is accessible. This means that it is large enough to accommodate the size of your car and that it is well-lit and has security cameras.
Take a look at some awesome outdoor events that you should strive to plan one day!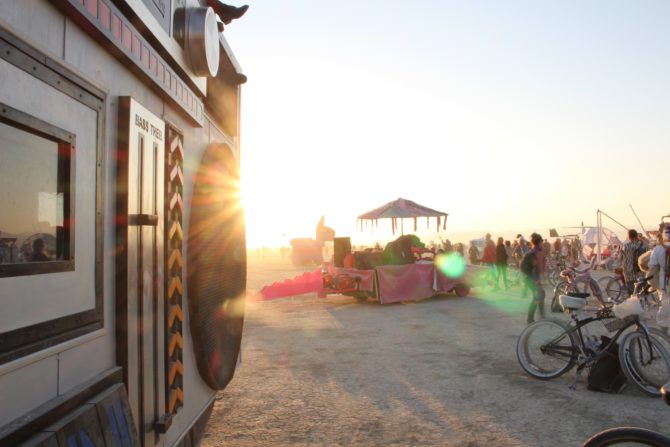 Burning Man
For over 30 years, the unofficial last week of summer is dedicated to Burning Man, a themed event held in the desert of Nevada. Thousands of people convene in the middle of nowhere to create an "experimental city" through spiritual and artistic expression. Everything that goes in, must come out. So, Burning Man cleanup might be the biggest event planning challenge we've ever heard of.
Run Disney Races
If chilling temps make you mad, head south and train for the Walt Disney-themed running races held in the winter. They've got plenty of themes that allow adults to be kids again — Star Wars Half Marathon, Super Hero Half Marathon, Disney Princess Half Marathon! Check out the races in November, January, February, and other months. They must have a whole team of planners with events held year round.
Jam Cruise
Music and vacation collide with the five-day event aboard the Norwegian Jade cruise ship. There is no rest on this ship with multiple music venues and around-the-clock concerts. One plus is the ship stops in Miami, Honduras, and Grand Cayman, so relaxation is still a possibility. With five days and multiple stops, we're guessing these planners are super organized.
Outdoor Silent Disco Party
An outdoor silent disco party is a great way to have fun and enjoy the summer weather. You can enjoy a silent disco party outdoors by renting a space at a park, campground, or even your own backyard. By hosting an outdoor silent disco party, you can enjoy music and dancing with friends and family in a fun and unique setting.
When planning your outdoor silent disco party, there are a few things to consider. One of the most important things is to make sure you have enough space for everyone to dance. You will also need to make sure you have enough space for people to move around, and that there is plenty of room for the sound system.
If you are hosting your party at a park or campground, you will need to check to see if there are any restrictions on noise. Make sure you also check to see if there are any restrictions on alcohol, as you may need to get a permit if you plan to serve alcohol at your party.
If you are hosting your party at home, you will need to make sure you have enough room for the sound system and for people to dance. You will also need to make sure you have enough space to set up tents or canopies if you plan to have a picnic or barbecue at your party.
When planning your party, be sure to plan for plenty of food and drinks. You can either bring your own food and drinks, or you can order food and drinks from a local restaurant or catering company.
Once you have everything planned out, it's time to start the party! Plan to arrive early to set up, and be sure to have plenty of music to keep everyone dancing all night long.