How to Throw a Successful Silent Disco Party
Throwing a silent disco doesn't have to be stressful or complicated. The key to throwing a successful silent disco party is in preparation, and using a trusted silent disco company.
The popularity of silent parties is continuously growing, making it convenient (and comfortable) for everyone involved to get up and dance! With customizable volume controls, individual music preferences, and a sensory-friendly environment, silent disco is truly suitable for everyone. Throwing a silent dance party may seem a little intimidating at first, but we promise it's super easy. If you can set up a DVD player, you can set up our silent disco system! Here are some tips to make sure you and your guests have a blast throwing your first ever silent disco: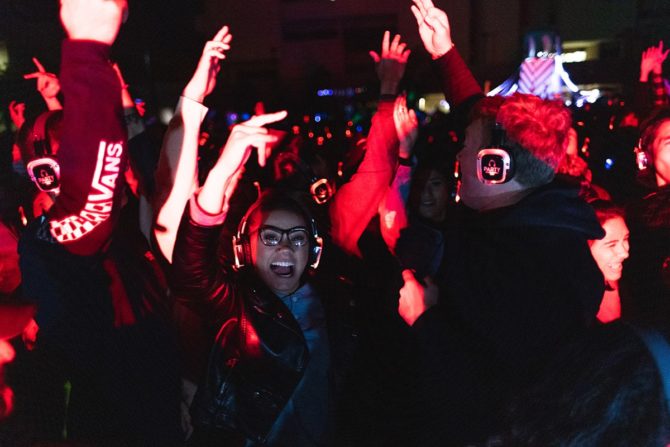 What You'll Need:
-Silent Disco Transmitter(s)
-An MP3 or music player (phone, laptop, etc.)
-Your Favorite Dance Playlist
Here's How to Throw A Silent Disco Party:
Step 1 : Choose a Trusted Silent Disco Equipment Provider
The first, and most important step to throwing a successful silent disco, is to source the proper equipment for your event! Without wireless headphones and transmitters, it won't really be a silent disco. Luckily for you, we know just the company. Party Headphones has been the silent disco business for over 8 years, with hundreds of thousands of satisfied customers, which means you are in good hands. We know silent disco and we have the experience to prove it. Before you go any further, request a quote based on the number of total guests you expect to host.

Tip: Some hosts prefer to provide an all-inclusive (free) experience, and others charge per headset rental, so go with whatever kind of experience you are seeking to create.
Step 2 : Pick A Good Venue
A great aspect of a silent disco, is you can throw it literally anywhere. Since everything is battery powered and completely wireless, you can actually have a party in the middle of the desert, or in the most remote place you can imagine! With that being the case, any venue where you have enough room for your guests to move and dance around will work perfectly. Even better, since there won't be any sound from the music, you don't have to worry about noise complaints from your neighbors, or city sound ordinances. Party on wherever you see fit.
Step 3 : Get Your Playlist Ready
No dance party is complete without a bumpin playlist. With three transmitters included in ever rental, you have the ability to stream three different audio sources, giving your guests the option to tune in to their taste of music. Not a music aficionado? That's ok! Getting a playlist ready is as easy as creating a free account on Pandora, Spotify, Apple Music, YouTube Music, or whatever music-streaming app you'd like. If you need some inspiration, check out these free dance music playlists with hours of great beats:


Step 4 : Lights Off, Music Up!
Now that you've got some fun music going for the crowd, it's time to turn down the lights and let the music roll! Party Headphones gives guests the ability to individually control volume on each headset, so each person can listen at the volume level they prefer. All of our headphones feature lighted sides with the ability to change the colors remotely using an included keypad. Press some keys and watch the light show go! For an added effect, and for even more fun, consider adding some fog machines, lasers, and some lighted blow up balls for your crowd to toss around. Our motto is always "the more the merrier!"

Call us at 833-PARTY-HP or Request a Quote for more information about renting our Silent Disco Headphones! We can't wait to help you party with the volume up and sound down.