Did you know that Adele was one of the top-selling musicians in 2021? Her new album, 30, crushed sales with almost 840,000 sold copies. While Adele doesn't necessarily fit the typical 'party music' vibe, it primarily depends on the type of party you are hosting.
Adele could work great as a backdrop for a museum or even a guided tour if you need something non-distracting. A Silent Disco party is flexible and creative, giving you all the power to create a hit playlist.
Don't let this intimidate you. We have put together a complete guide on how you can craft the perfect party playlist for your next friend get-together, dorm room party, charity event, or virtual movie night. Keep reading on for more information!
Music Genre
Before diving into what the crowd is itching to hear nowadays, it helps if you know your way around a music selection. Did you know that pirate metal is a genre of music?
Most people probably don't, but if you have an eclectic group of individuals who love a bit of folk mixed with their heavy metal, you may consider it. Other than pirate metal, there are many popular genres of music nowadays. Here are some top selections:
R&B/hip-hop
Rock
Pop
Country
Jazz
Latin
Dance
Gospel
Want to get even more technical? Some music platforms, such as Spotify narrow down musical genres even more. You can find variations of pop artists and music such as:
Dance-pop
Indie pop
Alternative pop
The same can be said for metal, rock, and even country. Some artists even break musical barriers by dabbing their toes into different genres, which can cause crowds to hate or love them for it. Others make a big splash in the music industry by entirely changing what type of music they create.
Miley Cyrus, Taylor Swift, and Darius Rucker have all made the giant leap from one genre into another. The hype is always mixed, and you may wonder, 'why is this important? '
People are creatures of habit, and unfortunately, music tastes can cause many late-night arguments. You may have been there arguing it out with a friend about Taylor Swift transcending the musical industry while your friend can't stand the country-turned-pop-turned-indie artist.
Choosing Party Music
Party music typically entails upbeat songs that have rhythmic melodies and catchy tunes. It may include songs that people know well and can belt out at the top of their lungs.
Nothing is more awkward than playing music that no one likes and can dance or move to. Additionally, if your party music is too wild, you may misread the crowd and event (more on that later). However, here are some simple tips and tricks that will make your party playlist much better:
Choose popular songs
Check sound quality
Know the duration
Mix genres
Ask for requests
Build a musical flow
If you need ideas, many music platforms have suggestions on popular party music, such as Apple and Spotify. Some of the best sources are the people at your party!
Start with a popular music playlist and mix up the genres, although you may want to avoid slower genres such as singer-songwriter, indie, or classical unless the party calls for it.
As the party progresses, start having your guests request songs and gauge the room. You can always adapt on the fly by adding songs to the queue or rearranging the playlist if everyone is enjoying 90s pop over recent hits.
Do you still need some help? Check out our public playlists on Spotify for some ideas on top party hits for any crowd.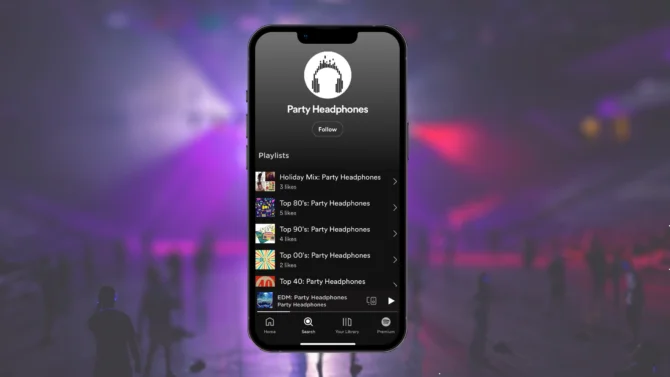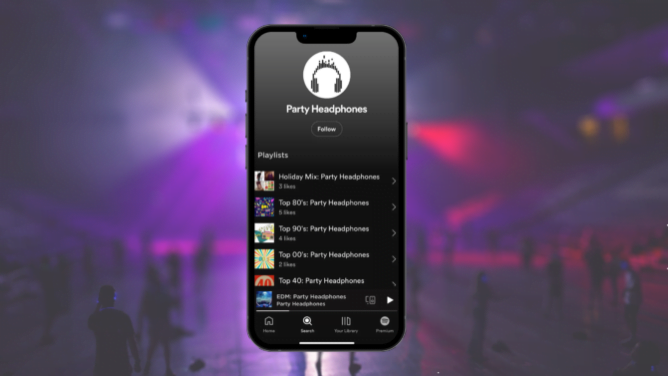 Read the Room
Now that you better understand the vast array of musical genres, you need an idea of the crowd you are hosting. First, read the room. Are you hosting a college party or charity gala?
The vibe might be a bit different between the two groups. Young college adults might be drawn to deep bass, catchy tunes, and something they can dance to all night long. On the contrary, a charity gala might hold a wider age group.
You may have to mix the old with the young, throwing in catchy, older tunes with a mixture of new songs that won't cause a raised eyebrow at the end of the night. As you can see, sometimes selecting a party playlist is a delicate problem.
Hire a DJ
One of the most straightforward solutions you can take for your party tunes is selecting a DJ. If you want a shot at DJ-ing your party, by all means – take the leap!
However, sometimes a DJ can run the party while you enjoy mingling with guests. You can supply your DJ with a playlist on a phone or iPod, or you can battle against another DJ and see who has the better tunes.
What is the best way you can battle a DJ? A silent disco party.
You heard that right, except there will be no silence in this smash-hit party of yours.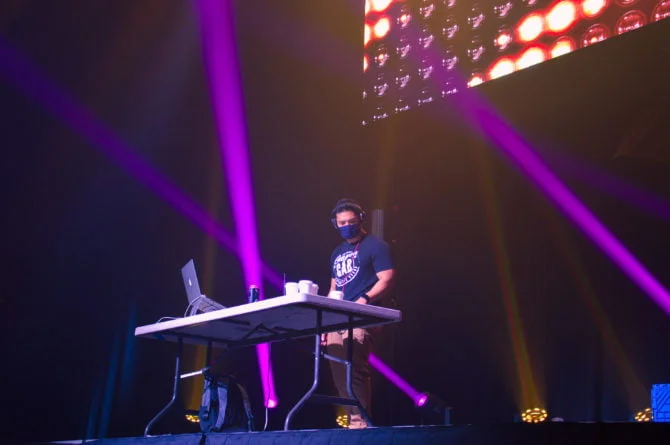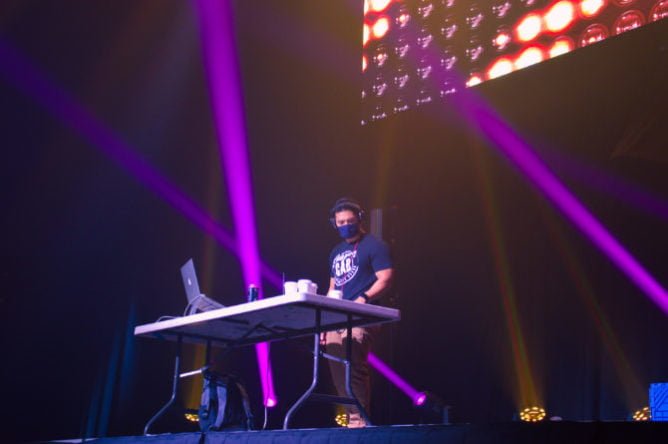 What Is a Silent Disco?
Live bands and loudspeakers are telltale signs of a party, but have you ever thought about headphones and their role in a person's experience with music?
Headphones are excellent choices for many reasons, including:
Adaptive listening experience
Multiple DJs
Hard of hearing
Individual volume levels
A silent disco gives you the option of including up to three DJs in an ultimate battle of party playlists. Better yet, you only need a few items:
Silent Disco Headphones
Transmitter
Music
If you want, listeners will have the option of tuning into three different playlist stations. The colored lighting on the Silent Disco headphones will indicate DJs and fellow party-goers which playlist they have on.
You will have the option of battling with other DJs and interacting with the crowd. Rather than yelling through a microphone for everyone's attention, your guests will hear you loud and clear through their headphones.
Just make sure you explain the function of headphones before you start the party.
Benefits of Silent Disco Parties
Silent Disco headphones are one of the most diverse party tools out there. You can rent or purchase these headphones for various events such as:
Corporate events
Movie drive-ins
Virtual parties
Work conferences
Tours
Museums
Group fitness
As you can see – these headphones are useful for more than just a wild college party. You can interact with multiple guests and have quality sound even in the most crowded areas.
How does this process work? The headphones also work for speaking to your guests, asking questions, and providing critical information. You can rent or buy different sized headphones that work for various sizes, genders, and age groups.
Lastly, your guests can adjust the volume, just like when music is playing, ensuring that the volume is comfortable for them.
Silent experiences are anything but silent; instead, they allow event coordinators, friends, and business owners an opportunity to showcase their event without disregard to those who may be hard of hearing or are in the back of the group.
If you just want a fun night in with friends while watching a backyard movie, Silent Disco headphones can give everyone an immersive experience while enjoying each other's company.
Final Touches
Music and sound are some of the most important factors for any successful party. However, a seamless event can go more smoothly with a few more final touches.
Before renting or purchasing anything, double-check your event date and guest list. If you are shorthanded on supplies, it can add unnecessary stress to your plate at the last second.
Silent Disco can work for any event, but getting supplies at the last second will be more challenging if your guest list changes. Plan for emergencies, and consider adding in a few extras.
For starters, when you receive your Silent Disco headphones and accessories, test them out beforehand. They should all be charged and ready to go, but invite some friends and test them yourself rather than stress on the night of your event.
Finally, make sure you take time to enjoy your successful night and have fun!
Silent Disco Night
Are you ready to start planning your next Silent Disco night? If you have never used Silent Disco before, now has never been a better time to start!
It can work virtually with friends or large gatherings. Additionally, if you need a better immersive experience with guided tours or business events, Silent Disco headphones work more than just for party music.
And – you don't need to buy them outright. Instead, contact us today about renting your first headphones, and let us help you start 2022 off on the right foot!