If you've landed yourself here, you're curious about what a silent disco is!
This amazing digital party headphone phenomenon, which was once a trend, has decided to stick around. And we're happy about that.
People everywhere are joining in on the craze and finding new ways to incorporate the silent disco concept into events of all forms.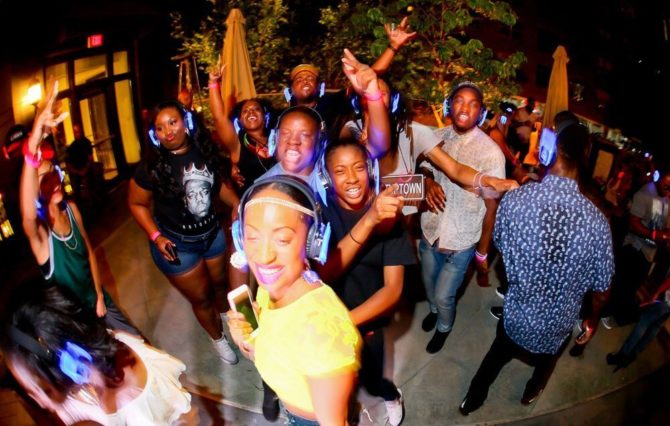 Yoga
Yogis are embracing silent disco headsets more than you'd expect. Yogajournal.com calls it "more than a trend", as it solves the problem of instructors not being heard when teaching a class. Soft sounds of a yoga teacher and background music make for a peaceful class without any of the loud distractions from outside the studio.
Bar Crawl
Just when we thought day drinking couldn't get any better, it just did. Grabbing a group of friends to hop from bar to bar with Party Headphones is the idea of a good time, right? Bar hoppers tune into the three different channels (80s, 90s, Top 40 music — you set it up!) for awesome music, all while touring your town.
Movie Rooftop
Bars and outdoor venues have been screening movies with wireless headphones for a while now. Adding a silent movie element is a great way to complement a casual event under the stars. All that's needed is a tech-friendly venue (mostly everywhere these days) that can accommodate a screen, transmitter, wireless headphones, and bodies to watch the movie.
Wedding
Throwing wedding guests for a loop and incorporating a silent disco into the reception will surely guarantee the soiree as "wedding of the century". A wedding silent rave happens when guests gather and dance at the reception to music played on wireless headphones.
Daytime Rave
Silent discos held in clubs could be during the day or at night, but the recent craze prefers the daytime party. The Rochester Fringe Festival has held what they call a Brown Bag Disco, where attendees get their pick of a brown bag lunch when they purchase their ticket. Now armed with a turkey and provolone, attendees have the fuel to quietly dance among their friends.
Karaoke
Similar to the daytime silent party where there are three channels of music to choose, the third channel is reserved for the karaoke portion. The words to the music on that channel are scrolling on a screen for everyone to see. Bad: there could be dozens of bad singers singing in "unison". Good: no one can hear it!