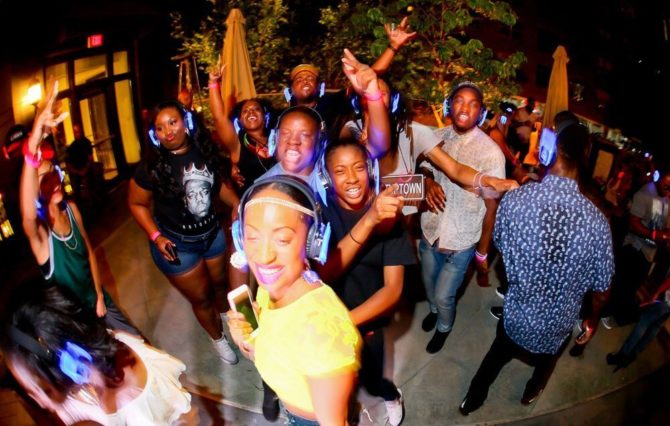 Orientation is over. School is well into football season. Midterms have just ended. The palpable energy college students feel at the beginning of the school year is starting to fade, so maybe it's time to switch things up. Throw the loudest party you've never heard. A silent disco party.
If you're looking to hold an earsplitting, deafening dance party that no one can hear, consider a silent disco. They're the perfect solution for gathering friends together at colleges and universities that have rules against parties and noise violations. (What school doesn't?) So, make like the ravers do at Coachella and party all night long without getting on the bad side of campus police.
Some Ideas for You
Need a unique idea for a fundraiser? Get permission from your school to throw a silent disco on the intramural fields under the stars. Charge for entry and raise money for your cause.
Planning a sorority or fraternity social but want to do something different? Hold a silent disco party at a rooftop bar or a local club.
Need a quiet place to watch your basketball team's away game? Don't spend time researching places off campus. Give everyone a set of digital headphones and watch the game in your dorm's common room. (Easy on the cheering though — some people are trying to study.)
Still want to dance after a school-sponsored event ends? Organize a late-night silent disco party, skip the sleep, and party all night.
With a little imagination, you can throw a silent disco anywhere, any time. Transform your space into a high-energy dance party — just with no noise.
Here's How
All you need to pull off a fully-loaded sensory experience is right here on this short, simple list.
1. A bunch of Party Headphones (can be rented or bought!)
2. Enthusiastic partygoers
3. A transmitter (we provide that for you!)
4. A venue
5. A DJ to spin tunes
Party Headphones can help supply all of the equipment needed to create a silent disco, and we can also suggest some excellent full-service production companies to handle the rest. Whether you're a budding club promoter or want to host a non-traditional hang out with your friends, silent disco is the way to go.
Basically, what we're saying is the sound is crisp and clear for everyone, and friends can dance with abandon. Have you heard of a party better than that?