Orientation is over. School is well into football season. Midterms have just ended. The palpable energy college students feel at the beginning of the school year is starting to fade, so maybe it's time to switch things up. Throw the loudest party you've never heard. A silent disco party.
If you're looking to hold an earsplitting, deafening dance party that no one can hear, consider a silent party. They're the perfect solution for gathering friends together at colleges and universities that have rules against parties and noise violations. (What school doesn't?) So, make as the ravers do at Coachella and party all night long without getting on the bad side of campus police.
Some of the ideas:
Need a unique idea for a fundraiser? Get permission from your school and college board to throw a silent party on the intramural fields under the stars. Charge for entry and raise money for your cause.
Planning a sorority or fraternity social but want to do something different? Hold a silent event at a rooftop bar or a local club.
Need a quiet place to watch your basketball team's away game? Don't spend time researching places off campus. Give everyone a set of digital wireless headphones and watch the game in your dorm's common room. (Easy on the cheering though — some people are trying to study.)
Still want to dance after a school-sponsored event ends? Organize a late-night silent disco party, skip the sleep, and party all night.
With a little imagination, you can throw a silent disco anywhere, any time. Transform your space into a high-energy dance party — just with no noise.
What is Silent Disco?
A Silent Disco is a type of dance party where people dance to music that they listen to on their own headphones.
The music is played through a special Silent Disco transmitter and headphone receivers that people can borrow at the event.
Since people are listening to their own music, they can choose whatever songs they want to dance to, which makes for a very personal and unique dance experience.
Silent Discos are a great way to party because they're super fun, super unique, and relatively low-key. They're perfect for people who want to dance the night away without having to worry about making too much noise.
How to host a Silent Disco
A Silent Disco, also known as a Silent rave, is a dance party where people dance to music that they hear through headphones. Silent discos are popular at music festivals and in nightclubs.
If you're thinking of hosting a Silent Disco party, there are a few things you need to know.
First, you'll need to decide on the music. You can create your own playlists, or use a Silent Disco service like Silent DJ or Disco Donnie.
Next, you'll need to decide on the headphones. You can buy headphones specifically for Silent Discos, or you can use regular headphones and buy headphone splitters so that more than one person can listen to the same music.
Once you have the music and the headphones sorted out, you'll need to decide on the venue. Silent Discos can be held anywhere, but they work best in dark, enclosed spaces like clubs or warehouses.
Finally, you'll need to promote the party and get people excited about it. You can use social media, flyers, or even word-of-mouth to get the word out.
A Silent Disco is a great way to have a dance party without annoying your neighbors or getting kicked out of your venue. So if you're looking for a new and unique way to party, consider hosting a Silent Disco.
How much would it cost to host a Silent Disco Party?
There are a lot of factors that go into how much it costs to host a silent party. The most important factor is the number of people who will be attending. Other factors that will affect the cost include the type of silent disco rentals company you choose, the length of the event, and any additional services that you may need.
Most silent disco rental companies will charge by the number of silent disco headphones you need. So, the more people who attend, the more it will cost. Generally, the cost per person decreases as the number of people increases. For example, a company may charge $10 per person for up to 50 people, $8 per person for up to 100 people, and so on.
Another factor that will affect the cost is the type of equipment rental company you choose. Some companies have more expensive equipment than others. The type of equipment will also affect the length of the event. For shorter events, you may be able to get away with using a less expensive type of equipment.
Additional services such as set up and tear down can also affect the cost. Most companies will charge an additional fee for these services. So, be sure to ask about any additional fees before you book your event.
In general, hosting a silent party can be expensive, but it can also be a lot of fun. If you're looking for a great way to amp up your party, look no further than Party Headphones!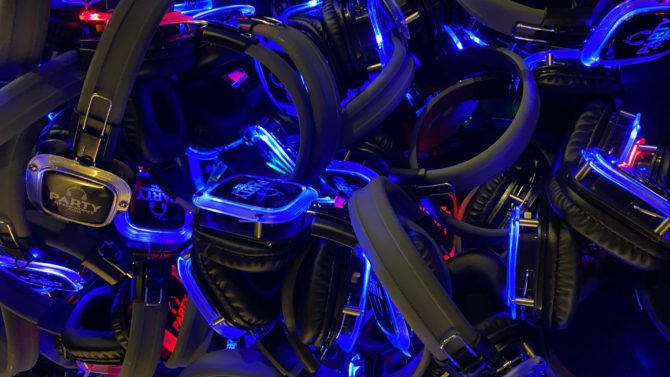 How cool are Party Headphones?
These amazing silent disco headphones let you share your music with everyone in the room without any need for bulky speakers. Plus, they come in a variety of fun colors and designs, so you can pick the perfect set to match your personality. Whether you're throwing a birthday bash, holiday party, academic programs, or just want to have some fun with your friends, Party Headphones are the perfect way to get the party started!
Party Headphones can help supply all of the silent sound system equipment needed to create a silent disco, and we can also suggest some excellent full-service production companies to handle the rest. Whether you're a budding club promoter or want to host a non-traditional hangout with your friends, a silent disco is the way to go.
Basically, what we're saying is the sound is crisp and clear for everyone, and friends can dance with abandon. Have you heard of a party better than that?