Party Headphones blog followers, like you, know about our recent exposure on television. Our equipment is featured on Netflix's Atypical and then on an upcoming episode of Lil Dicky's show on FX, Dave. But back in the early days of Party Headphones, we snagged a feature on another, still popular, comedy series, Brooklyn Nine-Nine.
Silent Disco on Brooklyn Nine-Nine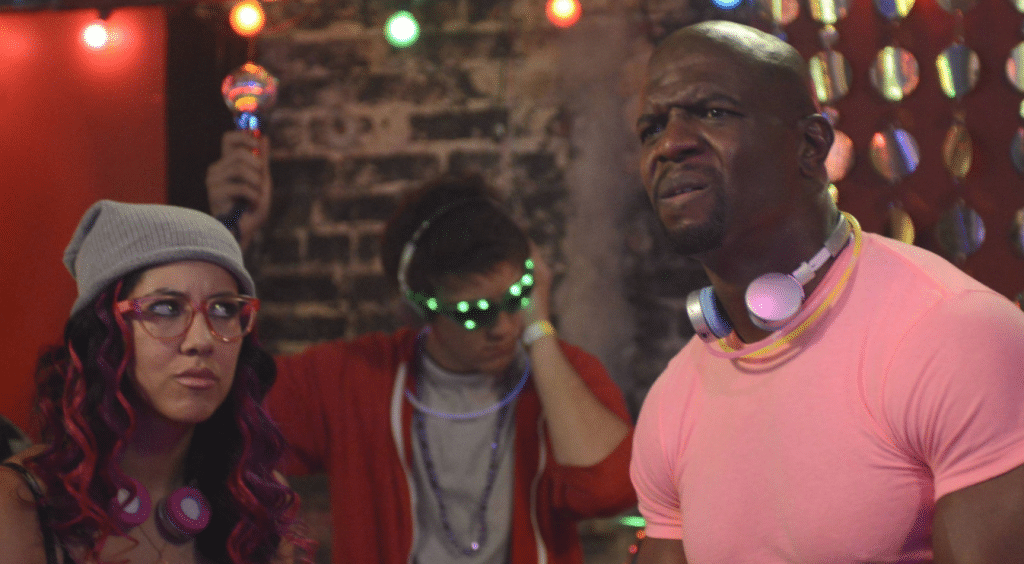 If you are a long-time fan of the NBC comedy, Brooklyn Nine-Nine, think back to season 2 (when it was on Fox). Episode 5, "The Mole", took Sergeant Terry Jeffords (Terry Crews) and Detective Rosa Diaz (Stephanie Beatriz) undercover at a silent disco. Jeffords (Crews) is confused by the seemingly contradictory term "silent disco" because, in his younger days, discos were never silent! His reaction in the scene is as funny as you might expect.
Check out the clip below and you'll see Party Headphones as the silent disco's equipment of choice!
In its seventh season, Brooklyn Nine-Nine boasts a cast of actors that are fun to watch as they solve crimes and perform "hilarious heroics" in "New York's funniest police precinct".
The first five seasons of Brooklyn Nine-Nine aired on Fox. When Fox cancelled it in 2018, NBC picked it up. Due to its success, it has already been renewed for season 8.
The show stars Andy Samberg, Beatriz Fumero, Andre Braugher, Terry Crews, Melissa Fumero, Joe LoTruglio, Chelsea Peretti, Dirk Blocker, and Joel McKinnon Miller. It has won several awards, including a Golden Globe for Best Television Series – Musical or Comedy.
Party Headphones Features
Party Headphones is proud of our previous and current exposure in television episodes, like Brooklyn Nine-Nine, Atypical, and Dave. Keep watching for us on both the small and big screens. With more features planned for the future, we are excited to continue showing you and the television-watching public how much fun a silent disco party with Party Headphones can be!
Make Your Event the Best!
The fun-loving team at Party Headphones will help make your event the best ever. Contact us now for future rentals or purchase of silent headphones, Photo Booths, and feedback stations.
Call for Producers
Are you a television/ movie producer? We are happy to discuss terms for featuring Party Headphones in your production. Contact us today.