No one is too old to party! The residents at Silver Glen Senior Living in Chicago are making noise on TikTok with their silent disco dance parties. This bunch of seniors are no strangers to innovative events and programming. In fact, they are known for spearheading Spectrum Retirement Communities' most avant-garde experiences, quite frequently. With the ethos #agefearlessly and #livecolorfully, Spectrum are asking their communities to rise to the challenge to provide elevated experiences much like the Silent Disco, and more.
There are many reasons why silent discos are great for senior living communities! First and foremost, they provide a fun, social activity for residents, which helps to combat feelings of loneliness and isolation by providing an opportunity for residents to come together to live their best life. The headphones are comfortable for those wearing hearing aids and allow residents with profound hearing loss to hear, communicate and participate. Additionally, silent discos can help to improve cognitive function and memory, as participants listen to songs that evoke memories and emotions. To put it plainly, a silent disco may just be what the doctor ordered! 
The Monster Mash Silent Disco was another one for the books! The team at Silver Glen wanted to create an atmosphere that you'd often find at a nightclub, wedding, or music festival, right at their own home. The use of Party Headphones silent disco equipment provided the perfect personalized party experience, for any age! Residents got to choose from three playlists, adjust their volume on their headphones to their liking, and dance/sing the night away with friends. Not a fan of the noise, no problem, just slide those headphones down and enjoy the scene. The immersive glowing lights, sparkling disco balls, and special effects makeup station added to the overall environment…but the music is what sets the stage for innovation.
Resident Pauli was spotted recording herself on her phone, singing at the top of her lungs at the end of the party. She wanted to send her kids a video, so they'd see her having a good time. Pauli hadn't felt confident leaving her apartment for weeks, due to her needing to be connected to her oxygen 24/7. She is always in good spirits and loves music deeply. It's been challenging for Pauli to feel like herself lately, and when she heard about the Silent Disco, she knew she couldn't miss it. Pauli prides herself in the fact that she knows the words to nearly every song. Pauli actually worked in a Senior Living community in her past and loves seniors. Even today, her instincts are to jump up and help out at her community because she still feels young!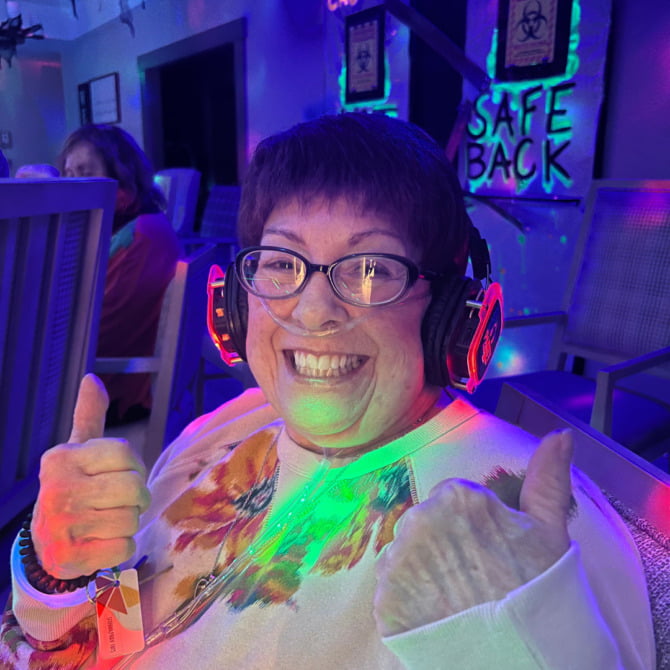 After Pauli's daughter Nikki saw her mom's videos, she said "Mom, turn up the volume and listen to your voice! That's my mama, she's still in there!" She was so excited that her mom decided to attend the party and enjoy herself. Pauli said that she had such a ball, that she had to go back to her apartment midway through so she could get a refill on her oxygen tank! She was determined to continue having the time of her life at all costs. Pauli's brother has been in a band since he was 16 years old called "The Twisters". Pauli was their biggest fan all through these years and would dance/sing at every concert until their retirement last year. Pauli was his biggest inspiration growing up, because she would let him listen to all of her records as they would dance the night away, together. "Music does make me come alive, and although that party was for zombies, I was the most alive I've felt in a long time". She cannot wait for the next Silent Disco dance party!
Pauli now wants to start a resident-led program called "Pauli's Playlists", where she will lead discussion and listening parties with her friends at Silver Glen. This gives her purpose, allows her to be the subject expert with her peers, as she shares her love of music with her friends. The Silent Disco brought her out, now the joy of music sets her free. 
Anyone interested in having their own silent disco party can get started by visiting our rental page.