Welcome Week is a time of excitement and anticipation for incoming college and university students. To create a memorable and inclusive event that sets the tone for the entire academic year, consider hosting a Silent Disco! These unique and engaging dance parties have gained popularity on campuses across the US, providing a fantastic opportunity for students to connect, have fun, and start their new journey off with a bang. To ensure your Welcome Week Silent Disco party is a resounding success, follow these tips and tricks:
1. Early Planning is Key For Campus Events
Start planning your Silent party event production well in advance. Secure a date and venue early to avoid scheduling conflicts, and work closely with your school's event organizers to ensure smooth logistics. Early planning will also give you ample time to promote the event effectively and build excitement among students.
2. Choose the Right Headphones and Equipment
Source high-quality Silent Disco equipment, including wireless headphones and transmitters. Ensure that the headphones have a sufficient battery life to last throughout the event. Test the equipment before the actual event to identify and address any technical issues. You can rent silent disco wireless headphones with 10-12 hours battery life from Party Headphones.
3. Select Diverse Music Channels
Create a playlist with diverse music genres to cater to different tastes. Having multiple music channels will allow attendees to choose their preferred style, making the Silent Disco experience more enjoyable for everyone. Consider collaborating with student DJs or student organizations to curate the playlists.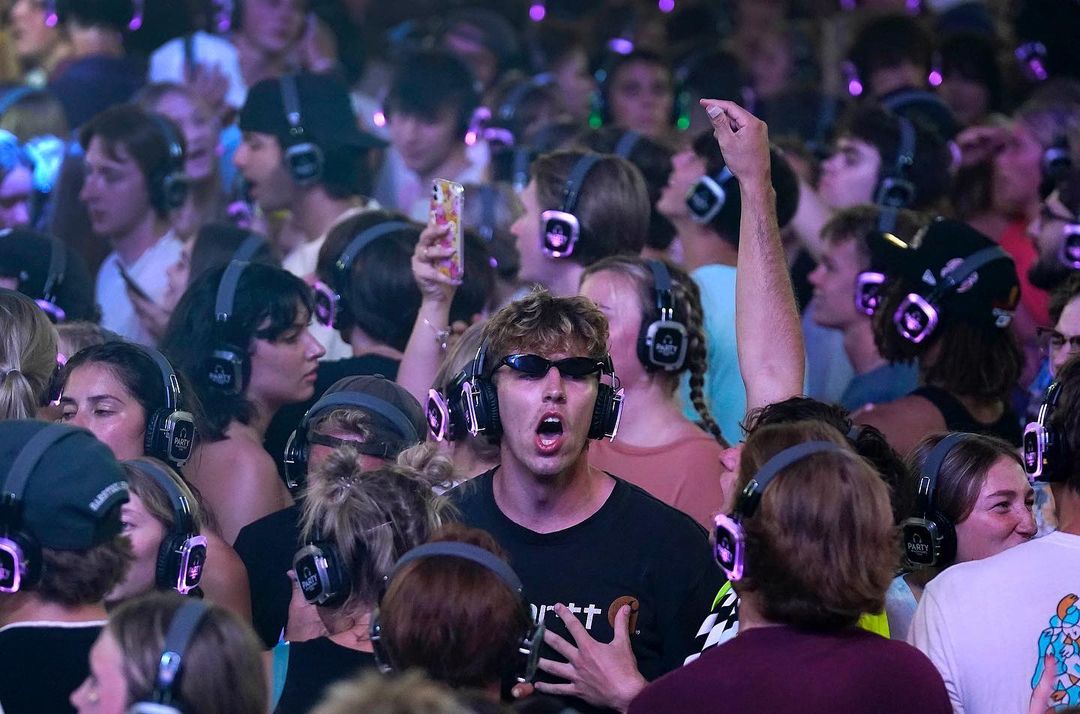 4. Decorate and Set the Mood
Transform the venue into a lively and vibrant dance floor. Use colorful lighting, decorations, and glow sticks to enhance the ambiance and create an exciting atmosphere. Consider adding positive affirmations or inspirational quotes around the venue to uplift students spirits.
Prioritize the safety of all attendees. Implement measures such as clear signage for emergency exits, first-aid stations, and public safety personnel. Promote responsible behavior, and have a team of volunteers or staff to manage the event and assist participants.
6. Collaborate with Student Organizations For An Engaging Student Life Experience
Involve student organizations in the planning and promotion of the Silent Disco event. Partnering with different groups will not only increase attendance but also foster a sense of community and inclusivity on campus.
Hire a photographer or set up a photo booth to capture the fun and excitement of the Silent Disco. Share these photos on social media and university websites to showcase the success of the event and to build anticipation for future gatherings.
8. Event Swag and Giveaways
Consider setting up a swag booth or giveaway station where attendees can pick up branded items like T-shirts, hats, wristbands, or glow sticks. Event swag not only adds to the fun but also leaves participants with lasting mementos of their Welcome Week experience.
Additionally, offering university swag as prizes for dance-offs or other interactive activities during the
dance party
can further incentivize participation and student engagement. Students will be eager to show off their new gear and proudly display their school pride throughout the entire academic year.
Hosting a Welcome Week
Silent Disco
is an excellent way to create a memorable and inclusive event that brings students together in a joyful and mindful experience. By following these tips and tricks, you can organize a Perfect Welcome Week
Silent Disco event
that will set a positive tone for the academic year ahead and leave a lasting impression on all attendees. Get ready to dance, connect, and celebrate as students embark on a new chapter of their academic journey!
To find out more information about how to elevate your school welcome week with a silent disco headphone rental, simply fill out one of our contact forms on our university and colleges experience page or connect now with one of our friendly silent disco experts on our web chat!
Book with us now, and we'll give you an exclusive 10% discount on your back-to-school party reservation by using code: BTS2023 at the checkout!