Find your focus with less distractions. Stream relaxing music and communicate with ease to any size class.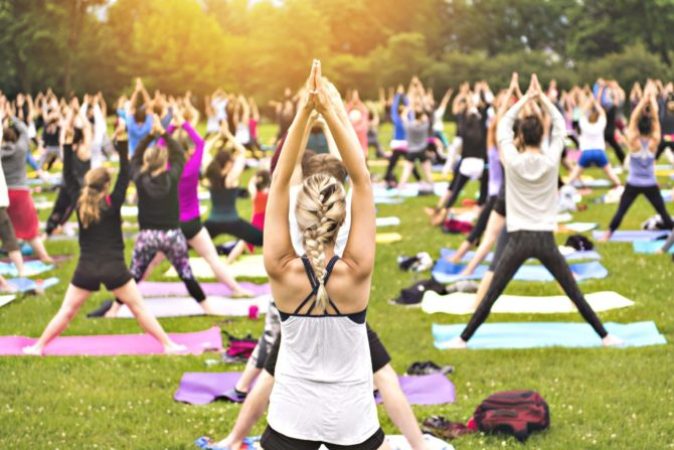 Epic Yoga and Fitness Classes
Enjoy your workout class anywhere with our comfortable wireless headphones! From yoga in the park, to outdoor spin class, now you can play music and give instructions without shouting or disturbing people around you.
For Yoga Events our headsets have been used with Bikram, Hatha, Vinyasa, Kundalini, Anusara yoga and more!
For Fitness Events our headsets have been used for stationary bike classes,  cross fit, P90X classes, outdoor workouts, large warehouse events, weightlifting classes, and more!
Personalized volume control on each headset.
Huge range (up to 5 football fields in length). Supports social-distanced outdoor workouts – no need to shout across the park!
Won't disturb your neighbors. Unless you like to yell away the pain when the burn sets in.
Takes minutes to setup. Minimal cables and no speakers needed. Can run off of a portable battery pack.
Multiple transmitters allow for up to 3 simultaneous classes to be held in a single area (multiple audio sources needed).
High audio fidelity with full stereo and noise cancelling design for an immersive audio experience. Perfect for meditation.
Works anywhere! Pop-up events, indoors, outdoors, or even in the woods!
Fully Goat-Yoga compatible.
Additional Silent Experiences
Great communication and clean gear. Shipped quickly, arrived before promised and had very clear instructions for use and return.
Everything from customer service to equipment rental was fantastic! All necessary supplies and information was contained in the box for rental.
Stellar company and service! Delivered on time, amazing product and cannot wait to host another event! All 150+ people at our event were out of this world happy! Could not recommend enough!
Silent Yoga & Fitness FAQ
What do I need to host a silent Yoga or Fitness Class?
You'll need a few supplies to host your own silent yoga or fitness class.
Your expertise of course!
Transmitters and audio sources (1-3 depending on how many instructors you have). Audio sources can be laptops, phones, tablets etc.
Enough Party Headphones for each of your expected guests.
If you don't already have a microphone that you can hook up to your audio device, you may want to choose our Bluetooth Transmitters with Microphones.
What's included with my silent yoga rental?
Our Silent Yoga kits include a wireless transmitter + microphone, and enough headphones for your entire class. Goats not included.
How do I set up my silent disco kit?
It's super easy! Just plug the transmitter into a power outlet (if you don't have an outlet handy use our portable battery or wireless transmitter option), and connect the audio cord to the transmitter and your audio device. Turn on your headphones and you're good to go.
Are microphones included with the rental?
Yes! While some people prefer to use their own integrated mic setup, we also offer Bluetooth Transmitters with Microphones that let you play music and instruct at the same time!
How many people can participate?
As many as you want! There is no technical limit and our record so far is just over 3k. If you can host a yoga event with more than that, you'll probably want to give Guinness World Records a call.
How does the rental process work?
Once your rental order has been processed, your silent Yoga or Fitness box will be shipped right to your door a day or two before your class. The day after your rental ends, you'll pack the equipment back up, and ship it back to us using the prepaid label. It's that easy!
Rent Silent Yoga & Fitness Package
Bring the Zen or amp up your fitness or Yoga class.
We ship to all 50 states and Canada. Submit the form and we'll get back to you within 24 hours.
Or call 833-PARTYHP to make a reservation today.