Silent Conferences & Exhibitions
Host a modern conference of any size in virtually any space. Private "off-stage" huddles, multiple stages in the same room, and more.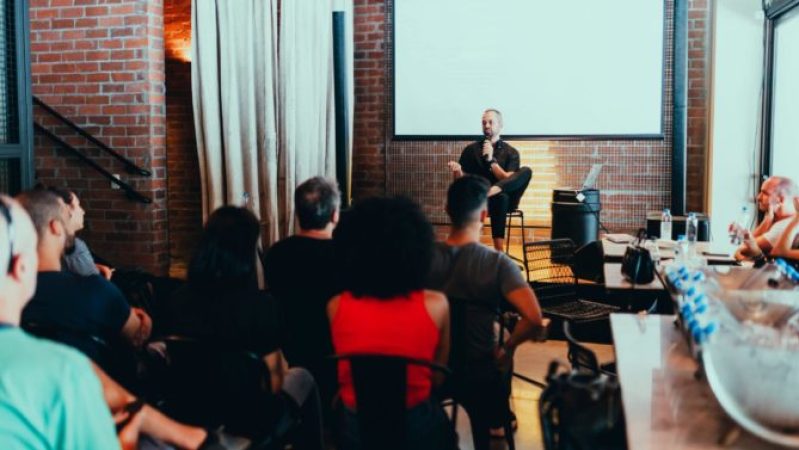 Engaging silent listening experience
Ready to modernize your next Conference, Convention, or Exhibition?
Our three-channel system allows you to host three different speakers or activities at the same time, in the same space, without the need for physical barriers to keep sound from overspilling. Guests can tune in to their respective programming directly from our noise cancelling headphones and adjust their own volume to hear presenters crystal clear!
We offer transmitters that are battery powered and come with a belt pack and clip-on lapel microphone, perfect for presenters to move around without clumsy wires getting in the way. Our system is easy for anyone to use plus it's both more cost effective and portable than large speaker systems!
Our wireless headphones and three-channel transmitter system are perfect for any venue, from traditional conference halls and event centers to outdoor spaces – even in or near public areas! All the while you can contain the sound – and keep your event private!
And of course, what better way to let loose when the work is done than a
Silent Disco party
!
Personalized volume control for everyone.
Huge range (up to 1500' - 5 football fields in length) for any venue.
Presenters can speak more directly to guests with high fidelity, full stereo headset audio.
Guests can switch channels for simultaneous presentations and breakout sessions.
Noise cancelling design helps guests focus, even with multiple sessions happening at once.
Takes minutes to setup. No speakers needed.
Learn from your guests and improve future events, check out our Feedback Station and add one to your next event.
Additional Silent Experiences
Great communication and clean gear. Shipped quickly, arrived before promised and had very clear instructions for use and return.
Everything from customer service to equipment rental was fantastic! All necessary supplies and information was contained in the box for rental.
Stellar company and service! Delivered on time, amazing product and cannot wait to host another event! All 150+ people at our event were out of this world happy! Could not recommend enough!
Silent Conferences & Exhibitions FAQ
What do I need to put on a "Silent Conference?"
All it takes to modernize your conference and create a "silent" listening experiencing is a Party Headphones Listening Rental and an expected guest count, so we know how many headphones to supply.
How far away can attendees listen in?
Normal range is up to 1500 feet. In a building where there is more interference, range won't be quite as long, but it should be more than adequate for nearly any conference-style setup.
Can we have multiple speakers in the same room?
Absolutely! The best part of our silent listening system is that you can have all of your speakers and attendees in a big room, with each speaker addressing their unique audience. 3 unique channels means attendees can tune in to the speaker of their choice at the flip of a switch.
Does Party Headphones rent other conference equipment?
We work with conferences around the world, and often our clients need more than just silent listening equipment. Our extensive industry experience and huge warehouse means we likely have just the thing you're looking for, at the right price. Message us letting us know what all you are looking for, and we'll be glad to help.
How many people can listen in?
As many as you want! There is no technical limit and our record so far is just over 3k!
What do I get with my rental?
Each rental will come with up to 3 transmitters (for streaming 3 audio sources at once), a wireless microphone for each transmitter, and as many headphones as you need for your expected guest count.
How does the rental process work?
Once your rental order has been processed, your silent listening box will be shipped right to your door a day or two before your event. The day after your rental ends, you'll pack the equipment back up, and ship it back to us using the prepaid label. It's that easy!
Rent Silent Conferences & Exhibitions Package
Your conference is about to get a whole lot more modern!
We ship to all 50 states and Canada. Submit the form and we'll get back to you within 24 hours.
Or call 833-PARTYHP to make a reservation today.