Show your team the appreciation they deserve with a Silent Disco Party!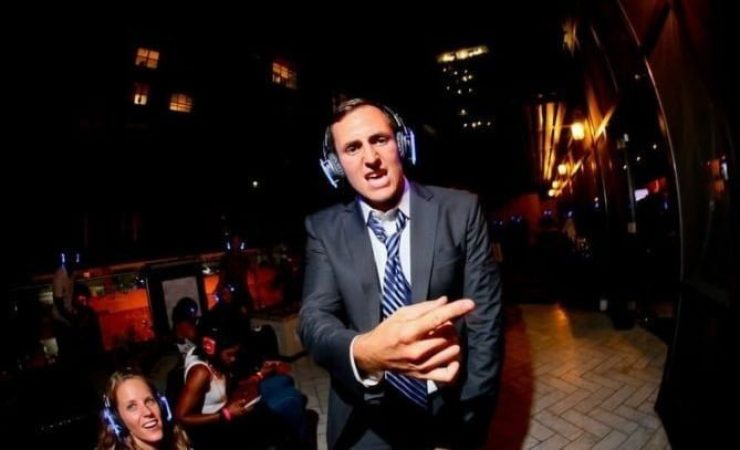 Ultimate Corporate Party Experience
Want a better way to break the ice and loosen up the office? Throw a Silent Disco for your next Corporate Party! Whether you're having a holiday party or a company outing, Party Headphones is the perfect addition to your next event. Take the party with you anywhere you can imagine, or throw an in-office silent disco party without disturbing neighboring offices! Our wireless headphones have three-channel capabilities which are great for creating team-building experiences or giving folks a choice of music at your next corporate event.
Personalized volume control for everyone.
Huge range (up to 1500- - that's 5 football fields in length).
Our silent disco equipment takes minutes to setup. Minimal cables and no speakers needed.
Create fun team building exercises!
Something for everyone! Multiple transmitters allow for different music on 3 separate channels (multiple audio sources needed).
Silent events won't disturb your neighbors. Unless your coworkers like to sing out loud.
Works anywhere! In-office parties, company picnics, staff retreats - Endless possibilities!
Additional Silent Experiences
Great communication and clean gear. Shipped quickly, arrived before promised and had very clear instructions for use and return.
Everything from customer service to equipment rental was fantastic! All necessary supplies and information was contained in the box for rental.
Stellar company and service! Delivered on time, amazing product and cannot wait to host another event! All 150+ people at our event were out of this world happy! Could not recommend enough!
Silent Corporate Parties FAQ
You only need a few things to put on an awesome Silent Corporate Party:
Your party playlist and a device to play it on!
A place to party!
Enough headphones for each of your guests!
It's super easy! Just plug the transmitter into a power outlet, and plug the other end into your music device. Turn on your headphones and you're good to go.
What's included with my silent disco rental?
Each rental will come with 3 transmitters (for playing up to 3 music channels at once), audio cables to connect to your music device, and as many headphones as you need. 
Nope! Our system was designed to be used by anyone. All you need is a device with an auxiliary port to play your music (phone, laptop, tablet, etc.). Queue up your favorite music station and you are good to go!
How does the rental work?
Once your rental order has been processed, your Silent Corporate Party box will be shipped right to your door a day before your event. The day after your rental ends, you'll pack the equipment back up, and ship it back to us using the prepaid label. It's that easy!
What else do you offer for Corporate Parties?
We have party lighting, Photo Booths, Outdoor Cinema packages, and more! Contact us with your event ideas and we will customize a rental package for your event.
Rent Silent Corporate Parties Package
Your office is about to get a whole lot more exciting!
We ship to all 50 states and Canada. Submit the form and we'll get back to you within 24 hours.
Or call 833-PARTYHP to make a reservation today.