Offer a new and exciting way for your congregation to hear the word at your next church event.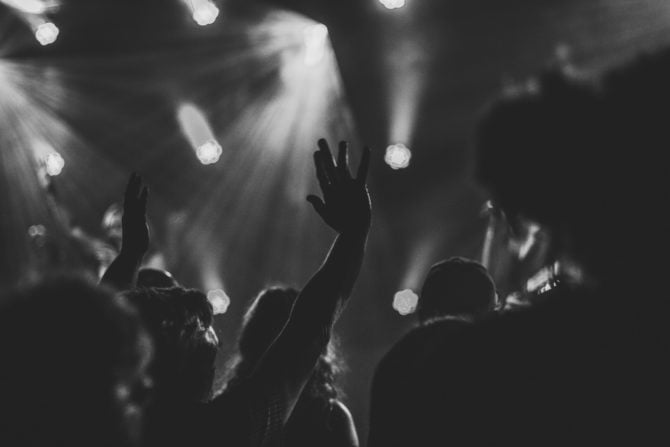 re-imagine your service listening experience
Throughout every week of every year, our Party Headphones' plug-and-play
silent disco party
systems are captivating youth groups and adding excitement to church services across the country.  This dynamic experience creates successful participation which has proved to be a perfect recipe for spreading the word of
Jesus Christ
, the love of God and the Truth of His story.
We are honored to have provided our equipment to so many churches across the nation for
silent disco event
,
worship services
, bible study events, conferences and other audio events. With three available channels, our headphones can also be used during services to play a pre-recorded version of the service in multiple languages. By setting up our transmitters with microphones, it is also possible for live translators to speak directly to
members of the congregation
in their own language at your
Sunday service
. Our headphones also offer solutions for members of the church with SEN, by giving them more control over their listening experience with their own individual volume control.
Individual volume control for everyone.
Can be used in break-out rooms without disturbing neighboring groups.
Pastors can speak more directly to guests with high fidelity, full stereo headset audio.
Noise-canceling design provides an intimate experience and can be helpful for SEN members of the church.
Easy setup. Minimal cables and no speakers needed.
Multiple transmitters allow for up to 3 channels to be broadcasted at once for multi-language solutions (multiple audio sources needed).​
No limit on the number of people that can participate in silent events.
Additional Silent Experiences
Great communication and clean gear. Shipped quickly, arrived before promised and had very clear instructions for use and return.
Everything from customer service to equipment rental was fantastic! All necessary supplies and information was contained in the box for rental.
Stellar company and service! Delivered on time, amazing product and cannot wait to host another event! All 150+ people at our event were out of this world happy! Could not recommend enough!
Church Services & Event FAQ
Do we need any other equipment?
Everything you need is included in your Party Headphones Rental Package. 
How far away can participants listen in?
Normal range is up to 1500 feet. In a building where there is more interference, range won't be quite as long, but it should be more than adequate for most church campuses.
Can we have multiple speakers in the same room?
Absolutely! The best part of our silent listening system is that you can have all of your speakers and congregation in a big room, with each speaker addressing their unique audience. 3 unique channels means attendees can tune in to the speaker of their choice at the flip of a switch.
How do I set up my Party Headphones church kit?
It's super easy! Just plug the transmitter into a power outlet, and plug the other end into the audio-out on your music device. Turn on your headphones and you're good to go.
Does Party Headphones rent other equipment for churches?
Yes! We rent Photo Booths that can be custom branded for your church, inflatable screens and projectors for conferences, led lights to enhance the worship experience, and more! Contact us if you would like to discuss your equipment needs.
How many people can listen in?
As many as you want! There is no technical limit and our record so far is just over 3k!
What do I get with my rental?
Each rental will come with up to 3 transmitters (for streaming 3 audio sources at once), a wireless microphone for each transmitter, and as many headphones as you need for your congregation!
How does the rental process work?
Once your rental order has been processed, your silent listening box will be shipped right to your door a day or two before your event. The day after your rental ends, you'll pack the equipment back up, and ship it back to us using the prepaid label. It's that easy!
Rent Church Services & Event Package
Get ready to experience epic to a whole different level with this silent experience.
We ship to all 50 states and Canada. Submit the form and we'll get back to you within 24 hours.
Or call 833-PARTYHP to make a reservation today.